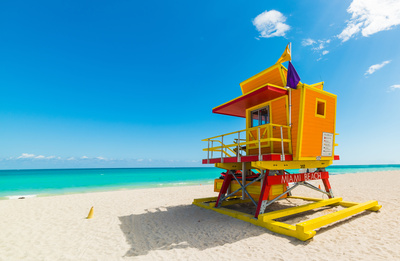 What is the hottest city in the United States? While almost any part of the country can experience uncomfortably warm temperatures, the southern states are clearly best at producing heat. But which town rules them all? The answer might surprise you!
Our ranking uses normal daily average temperatures to determine which cities are the hottest in America. That means that whichever town has the most warm days and nights throughout the year on average will win, even if it doesn't experience extreme heat very often. We set up the rankings this way because we wanted to see who gets warm/hot consistently, or perhaps never really cools off in the winter, rather than who had the misfortune of being at the center of a major heat wave 50+ years ago.
If you were to rank cities based on, for example, the average number of days where the temperature exceeds 90 degrees, the list would look different. If you were to rank based on record hottest temperatures, it would look even more different! We've included both of these parameters in the list below so you can make your own comparisons.
The 11 Hottest Cities in the United States
Let's take a look at the hottest cities in the US (with a population over 25,000) according to average annual temperature data from NOAA's National Centers for Environmental Information (NCEI).
1. San Juan, Puerto Rico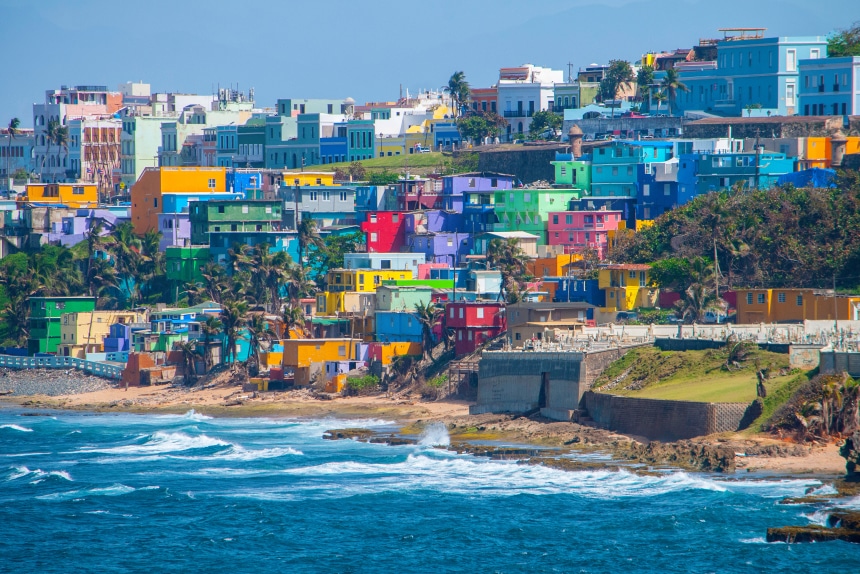 Average Annual Temperature: 81.0°F
Average Annual Number of 90°F or Higher Days: 66
Record Highest Temperature: 98°F on October 9, 1981
San Juan, the capital of the US Territory of Puerto Rico, tops the list by a whopping 3 degrees Fahrenheit. That's a lot when talking about average daily temperatures over 30 years! You'd be correct if you picture Puerto Rico as the land of soft tropical breezes rather than stifling heat. The city very rarely gets truly hot. Its record high temperature, 98°F, is cooler than Phoenix's average high temperature during four months of the year!
Why does San Juan earn the top spot as the hottest city in the US? The answer is found in the winter months. The city just never really cools off. Separated from the polar regions by thousands of miles of warm water, San Juan is perfectly insulated from cold air. The lowest temperature ever recorded in San Juan was 60°F which occurred on March 3, 1957. Its average high temperature during the month of January is 83.4°F.
Because we're constructing this list using average temperature across the year, San Juan easily takes the cake as the warmest city because it's simply impossible for it to get cold due to its location deep in the tropical Atlantic.
Are you excited to visit the warmest town in the US? The city is known for its beaches and Caribbean cuisine, and the weather is often perfect for exploring outside. Just be sure to watch out for showers and thunderstorms, which are most common during the afternoon in the late summer and early fall. San Juan averages 202 rainy days yearly, making it one of the most rainy cities in the US.
2. Key West, Florida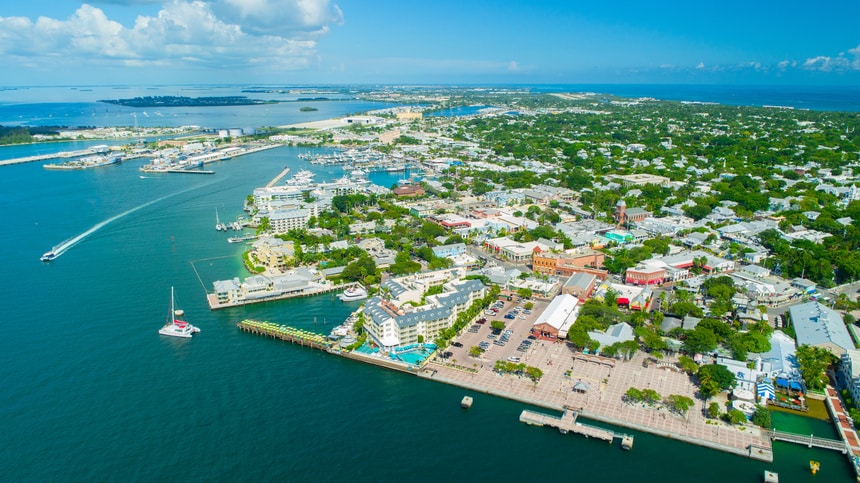 Average Annual Temperature: 78.0°F
Average Annual Number of 90°F or Higher Days: 50
Record Highest Temperature: 95°F on September 20, 2018
Like San Juan, Key West is one of the hottest places in America, less because of its penchant for extreme summer heat but more for its consistently warm winters. Perched at the very end of the Florida Keys, deep in the Gulf of Mexico, Key West is also well-positioned to avoid cold air during the winters. Even in January, the average high temperature is 75.2°F.
During the summer, the same nearby water keeps temperatures from getting too extreme. When sunlight hits the Earth, as it does plentifully in the tropics, its energy can either go to evaporating water or to heating up the air. The more water around, the less energy is available for heating up the atmosphere. This is why tropical places are warm and humid but rarely as hot as desert locales.
Key West is known for its walkable downtown, delicious food, and excellent opportunities for snorkeling and fishing in the nearby waters.
3. Honolulu, Hawaii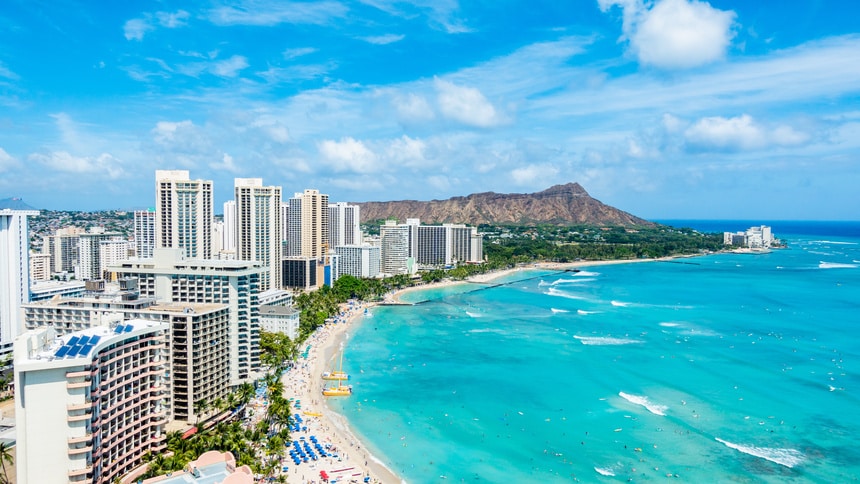 Average Annual Temperature: 77.7°F
Average Annual Number of 90°F or Higher Days: 25
Record Highest Temperature: 95°F on August 31, 2019
Are you noticing a trend by now? Another tropical island city takes the number three spot thanks to warm temperatures all year round despite a very modest number of days above 90°F and a paltry 95°F record high temperature. Summer temperatures are warm but not generally hot, with the warmest August days usually topping at 88.8°F. That's hardly different from January's coolest days, which feature high temperatures averaging 80.5°F! That consistent warmth puts Honolulu in the number three spot on our list and ranks it among the cities with the best year-round weather in the United States.
Honolulu is known for its beaches, nightlife, and historical sites, including memorials commemorating the day which will live in infamy when American ships docked at nearby Pearl Harbor were attacked by Japanese warplanes. Spring and summer are generally the best times to visit Honolulu, as sunshine during these months is plentiful, and rain is rare. During the winter, storms from the North Pacific can sometimes graze the city with heavy rain and wind.
4. Miami, Florida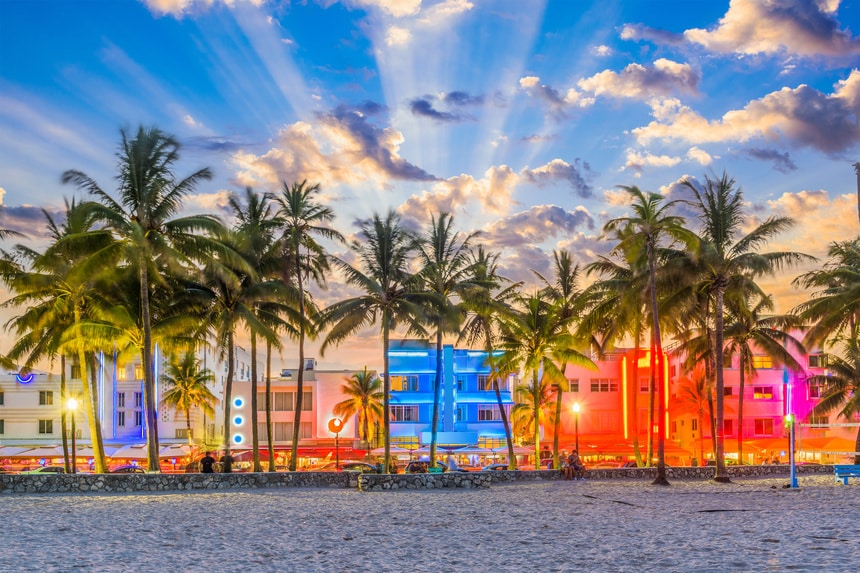 Average Annual Temperature: 77.2°F
Average Annual Number of 90°F or Higher Days: 70
Record Highest Temperature: 98°F on July 9, 2020
It's not quite an island like our top three cities, but it's close enough, right? Miami's proximity to warm tropical waters keeps things warm during the winter and slightly less hot during the summer. Even though Miami is warmer than the top three cities during the summer, averaging 70 days above 90°F each year, it can get quite a bit colder than the tropical island cities during the winter.
Miami's average high temperature in January is "merely" 76.5°F, cooler than its August average of 90.9°F, which is a much more extensive annual range than any of the cities above. Not to mention that it can even, from time to time, get downright chilly in Miami. The city has recorded below-freezing temperatures during four months of the year (December, January, February, and March), and once, it even snowed in the city!
Beaches and nightlife are Miami's main attractions and are best enjoyed during the cooler/drier winter months and in spring.
5. Kahului, Hawaii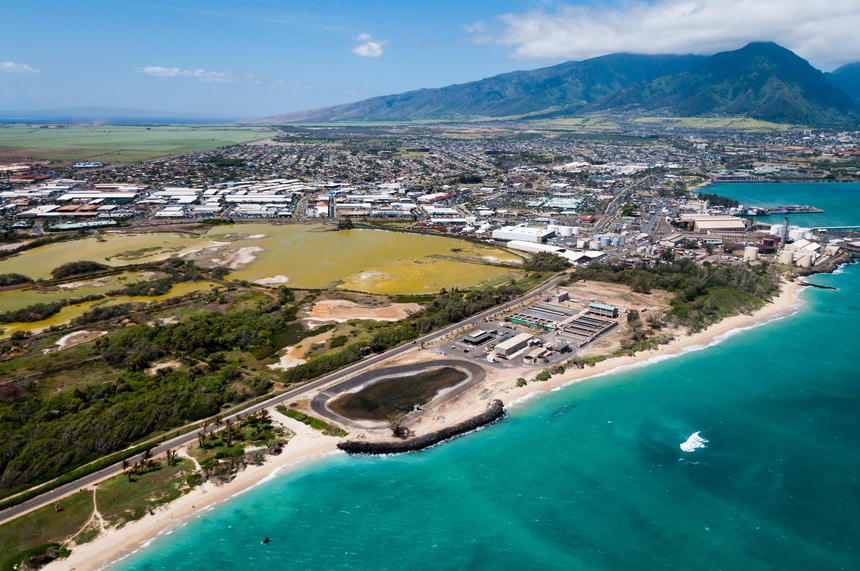 Average Annual Temperature: 75.8°F
Average Annual Number of 90°F or Higher Days: 28
Record Highest Temperature: 97°F on September 16, 2019
Back on the island beat, Kahului, the biggest city on the Hawaiian island of Maui, takes the number five spot with consistent warmth all year round. Like the other tropical islands on this list, Kahului never gets very hot but never gets cold, either. It has minimal fluctuation in temperature throughout the year, with January days topping out at 80.9°F on average, while its warmest summer days (which actually happen in September!) usually reach 88.6°F. Kahului also earns a position on our list of the windiest places in the US, with an average wind speed of 12.8mph.
Kahului is the gateway to Maui's stunning natural beauty, from beaches to the jungle to the rocky summit of Haleakala, which towers over 10,000 feet above the ocean. Maui's outdoor activities are generally best enjoyed in the summer and early fall when precipitation is rare.
6. West Palm Beach, Florida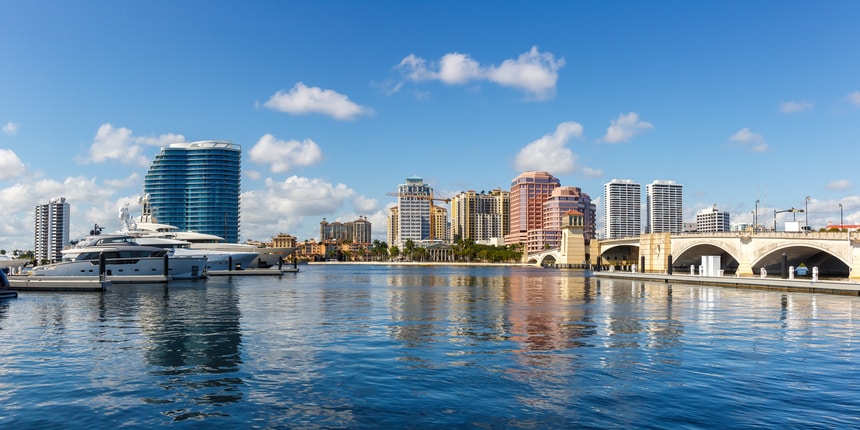 Average Annual Temperature: 75.4°F
Average Annual Number of 90°F or Higher Days: 75
Record Highest Temperature: 101°F on July 21, 1942
A few miles up the road from Miami sits West Palm Beach, with an almost identical climate. West Palm Beach is better at cranking out hot temperatures during the summer (thanks to being surrounded by about half land and half water vs. Miami, which has water to the northeast, east, southeast, south, and southwest).
Much like Miami, West Palm Beach has a bit more seasonal variation in temperatures than the island cities but quite a bit less than some desert cities we'll get to in a minute. During January, afternoon high temperatures are usually a pleasant 75.2°F, while August afternoons typically top out at a very warm 90.4°F.
West Palm Beach is mainly known for its beaches which are most reliably enjoyed during the winter dry season and into spring.
7. Fort Myers, Florida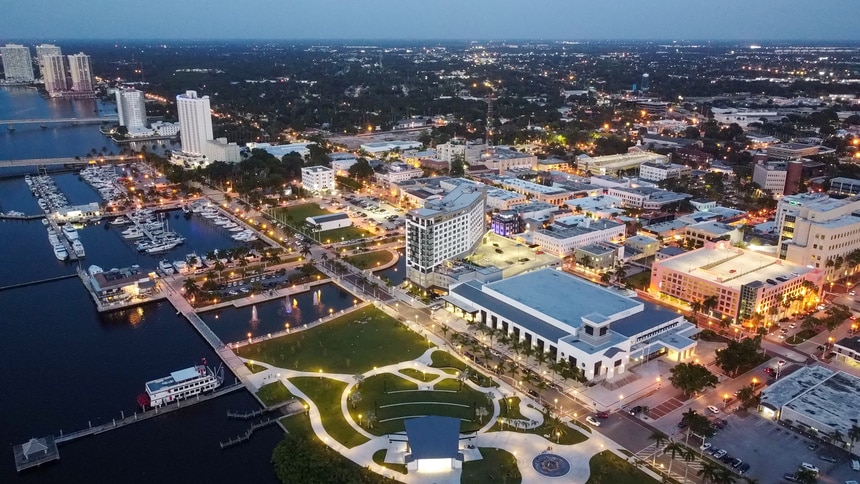 Average Annual Temperature: 75.1°F
Average Annual Number of 90°F or Higher Days: 100
Record Highest Temperature: 103°F on June 17, 1981
Our first entry from Florida's west coast is Fort Myers, just across the peninsula from Miami. Perhaps surprisingly, Fort Myers is much better at cranking out 90-degree days than its neighbor to the east. Why is that?
The answer lies in the prevailing wind pattern during the summer. As the Northern Hemisphere warms each year, the belt of westerly winds that dominates the subtropics during the winter weakens and shifts north, allowing easterly trade winds to take their place.
While Miami's summertime winds are often onshore, keeping temps ever so slightly cooler, Fort Myers gets all the warmth generated by sunlight striking the southern Florida peninsula. That means that Fort Myers is warmer during the summer, but it's also a little bit closer to cool air coming in from the northwest during the winter. The cooler air during the winter outweighs the warmer air during the summer just enough to put Fort Myers into seventh place.
Fort Myers is known for its beaches, snorkeling, and fishing, all of which are best enjoyed during the slightly cooler and much drier winter season.
8. Phoenix, Arizona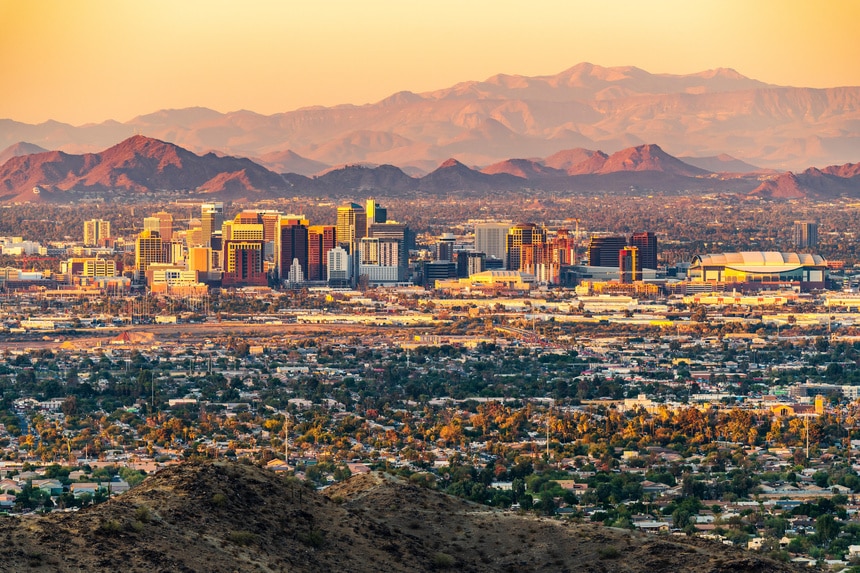 Average Annual Temperature: 75.0°F
Average Annual Number of 90°F or Higher Days: 169
Record Highest Temperature: 122°F on June 26, 1990
Finally, the desert! Did you think we'd have to wait until spot number eight to hear from Arizona? Phoenix is known for its searing summer heat. It's one of the hottest places in the United States in summer. High temperatures top just over 100°F on average from June until September! Its average low temperature of 84.2°F during July is comparable to the average high temperature in most tropical island cities.
Despite its intense summertime heat, Phoenix only comes in at spot number eight, thanks to its cool winters. Average highs in December and January are only in the mid-60s, and nights fall into the 40s during most winter nights. It can even get downright cold during the winter, as it did in 1913 when temps dropped into the low 10s. Phoenix also ranks as the fourth sunniest city in the US, with an average percentage of possible sunshine of 85% yearly.
Such extreme fluctuations in temperature are attributable to the city's dry climate. During the day, almost all the energy Phoenix gets from the sun goes towards heating the air rather than evaporating water. That's because there's essentially no water to evaporate!
The city can cool rapidly at night thanks to the dry climate. Water vapor happens to be an excellent greenhouse gas, one of the most potent on Earth. In the tropics, humidity helps keep things warm at night, but that's not much of a problem for Phoenix. Its location far from large bodies of water also helps support a wide range of seasonal weather, from temperate or occasionally chilly winters to sizzling summers.
Phoenix is a great place to enjoy hiking, biking, golf, and nightlife, but be sure to visit outside the peak summer heat unless you're prepared to endure temperatures over 100°F day after day!
9. Brownsville, Texas
Average Annual Temperature: 74.5°F
Average Annual Number of 90°F or Higher Days: 126
Record Highest Temperature: 106°F on March 27, 1984
Brownsville is the southernmost city in Texas, perched on the Gulf Coast. Its proximity to the water helps it stay reasonably warm during the winter, though it enjoys five months on average (November through March) with average daily high temperatures below 80°F. That's quite a bit more "cool" weather than most other tropical cities on the list.
In the summer, Brownsville benefits from its proximity to the Mexican desert, which is extremely good at converting sunshine into hot air (remember that's because it's so dry!). The city cranks out 90-degree days from late May through early October, and high temperatures over 100°F aren't uncommon.
Brownsville is the gateway to South Padre Island, known for its world-class beaches. Outdoor activities here are best enjoyed during the winter and spring when temperatures are mild, and precipitation is rare.
10. Tampa, Florida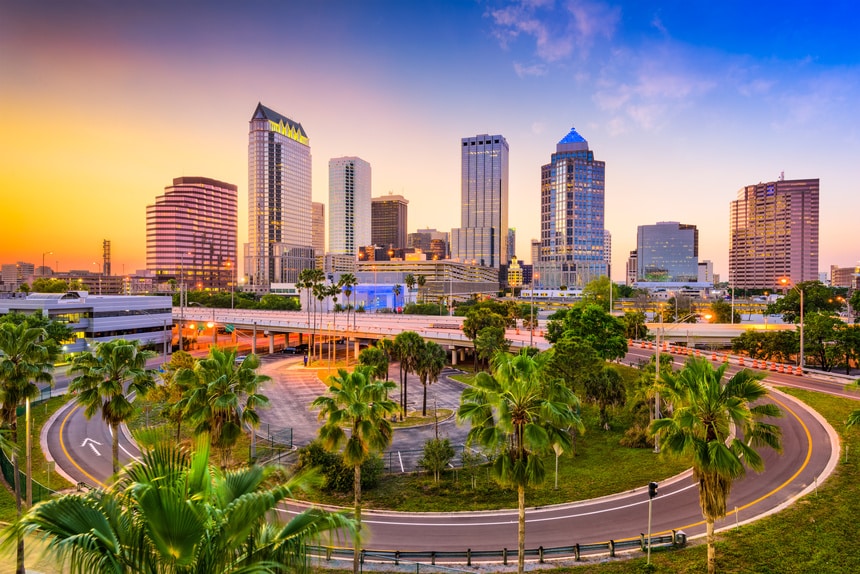 Average Annual Temperature: 73.4°F
Average Annual Number of 90°F or Higher Days: 88
Record Highest Temperature: 99°F on June 26, 2020
Back in Florida, Tampa takes spot number ten just up the road from Fort Myers. Like all the cities in Florida, Tampa rarely gets extremely hot during the summer but stays warm through the winter thanks to its proximity to warm water.
Just a bit farther up the peninsula, it's easier for Tampa to tap into cool air during the winter months, which puts it farther down the list relative to Miami, West Palm Beach, and Fort Myers. High temperatures in January average "just" 70.7°F! It can even get chilly in Tampa during the winter. Lows below freezing have been recorded each month from November to March, with a reading of 18°F observed on December 13, 1962.
Tampa is best known for beaches and boating, both of which are best enjoyed during the warm and generally dry spring months.
11. Orlando, Florida
Average Annual Temperature: 73.3°F
Average Annual Number of 90°F or Higher Days: 99
Record Highest Temperature: 103°F on September 8, 1921
Home to no shortage of tourist attractions from Disney to Universal Studios, Orlando rounds out our list at number eleven. Located in the north-central part of the Florida Peninsula, about as far away from the ocean as you can be in Florida, Orlando can get warmer than most other Florida cities during the summer.
It holds the most impressive record high out of any Florida city on our list at 103°F and posts nearly one hundred days above 90°F each year. That said, it is also closer to cool air during the winter, which means its annual average temperature is lower than the other Florida entries on our list. Remember, it's all about the averages!
What Is the Hottest Temperature Ever Recorded in the US?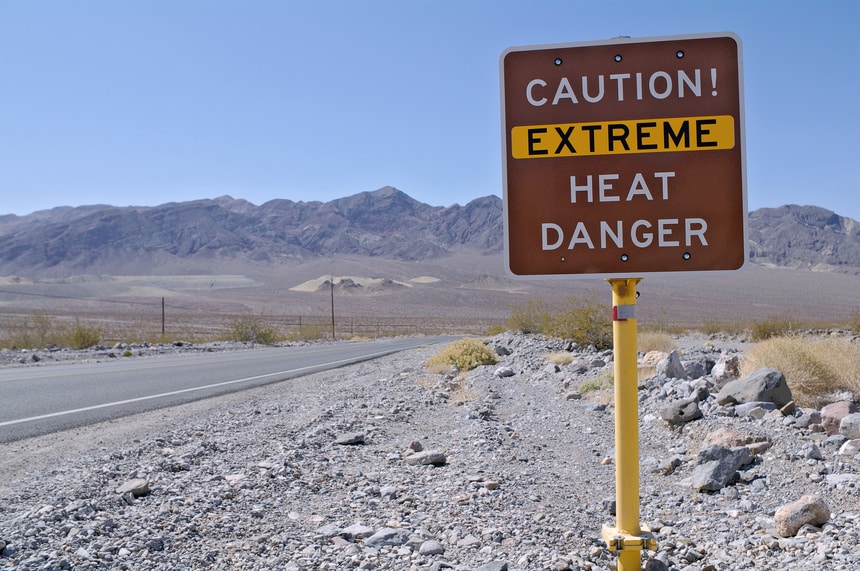 We know about the warmest places in the United States, according to average temperatures, but what about the hottest temperature ever recorded in the country? Death Valley, California, takes that title easily, though the story isn't without some intrigue and controversy.
Nobody disputes that Death Valley is the site of the hottest temperature ever recorded in the United States and the world, but there is some argument about what the hottest temperature really is. The World Meteorological Organization (WMO) recognizes a measurement of 134°F at Death Valley in 1913 as the record, but recent science has called that into question.
More recently, on July 9, 2021, the temperature at Death Valley was recorded at 130°F, the highest reliable reading using modern instrumentation. For perspective, if the internal temperature of a steak you were grilling were to reach that temperature, it would be considered medium-rare and ready to eat (if that's your preference). 130°F is also closer to water's boiling point than water's freezing point!
Death Valley is also the site of North America's warmest nighttime low temperature which occurred on July 12, 2012, when the coldest it got all night was a whopping 107°F.
Why is Death Valley so hot? There are a few unique factors working to produce incredible heat. Most importantly, Death Valley is 282 feet below sea level. That means that its barometric pressure is higher than most places on Earth. As air travels down into the basin, it is compressed by the higher pressure. That compression adds energy to the atmosphere, which we see in the form of heat.
For added measure, the steep mountain slopes surrounding Death Valley are lined with lightly-colored rocks and soil that help reflect heat and sunlight into the valley like mirrors. Those same mountain slopes also prevent air from leaving the valley during periods of calm winds that occur in heat waves. That means that day after day, the same blob of air is subject to the same perfect storm of heating conditions, pushing its temperature higher and higher.
Death Valley's general climate is similar to that of Phoenix: searing hot in the summer and pleasantly cool during the winter. Its average high temperature in December is just 65.8°F, while the average low is 39.1°F! In the summer, high temperatures average over 110°F from June to August, while lows rarely get colder than the mid-80s. Death Valley's average temperature over the year comes out to 78.8°F, which would put it in the number two spot on our list if 25,000 people could brave the desolate location and brutal temperatures.
Final Thoughts
The hottest cities in the United States are generally tropical islands, followed by the Florida Peninsula. This is because proximity to warm tropical water is the best way to stay warm during the winter, even if it makes extreme heat harder during the summer.
Because we're determining our rankings by average temperature over the whole year, staying warm during the winter counts just as much as being hot during the summer. That makes it harder for spots we might typically associate with extreme heat in the summer to make the rankings.
Even though Phoenix, for example, routinely posts extreme 100-110°F high temperatures during the summer, its cool(ish) nights and sometimes chilly winters make it hard to compete with the consistent warmth of San Juan or Key West. The bottom line? If it's the warmth you're after, the tropics are your place, while extreme heat is most reliably found in the desert, even if winters there are cool.
Now that you know where all the hottest cities in the country are, you might be interested in taking a look at our list of the coldest cities in the United States.
This list is compiled using data from the National Centers for Environmental Information's Comparative Climatic Dataset. This dataset uses information spanning from the late 1940s or early 1950s (depending on the station) until 2020, ensuring a long period of reliable data with which to make comparisons. However, for the purposes of this list, we only used averages from 1981-2010, which is one of the most current thirty-year climate periods. This allows us to include the influence of climate change in our analysis. Record high temperatures are taken from Extreme Weather Watch, which compiles record-setting weather events of all types.